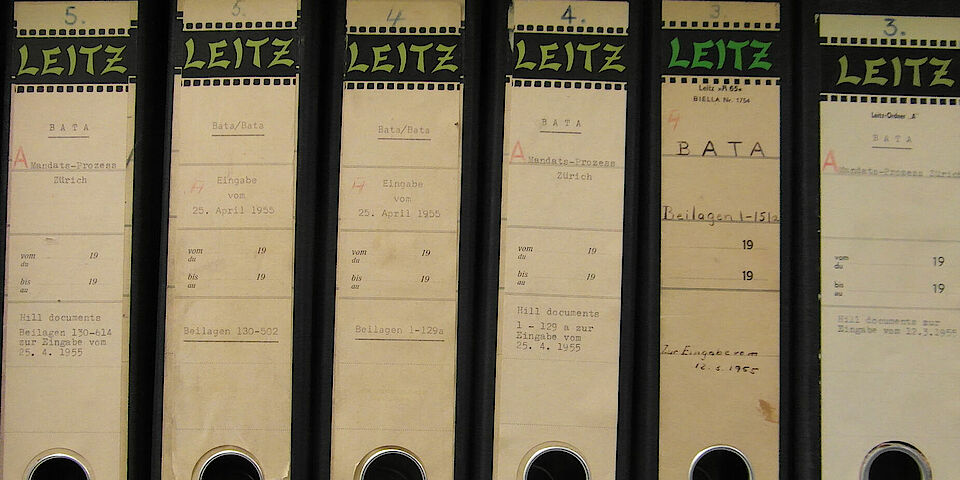 The Swiss Economic Archives (SWA) takes care of preserving and making the archives of companies, associations and business people visible. Archives are usually offered to the SWA by the company or association itself, or by individuals.
The SWA can either take over such archive holdings itself, or will attempt to find other suitable solutions. The Collection strategy and profile (PDF, in German) document serves as a basis. Even with a good network, the preservation or saving of business archives is challenging. It requires personal and financial resources on the part of everyone involved.
Getting involved in the past, means taking responsibility for the future.
An orderly and clearly structured archive fulfills important functions for a company: legal security, history marketing and corporate culture are key themes. Researchers and an interested public are interested in economic history. The documents of companies, associations or private individuals with reference to the economy will be important sources in the future.
Which business documents should be stored permanently? What is of historical importance? How do you organise a company archive? Our brochure about processing company archives (PDF, in German) provides information. The SWA will be happy to answer questions about the handling of archives of companies or associations.
Economics holdings are not only collected by the SWA, but also by cantonal state archives, city archives, the federal archive and special archives. In addition, some companies have set up their own historical company archives. The arCHeco portal, a directory of economic collections in private and public archive institutions in Switzerland and Liechtenstein, provides an overview. arCHeco is operated by the SWA and the working group "Archives of the private economy"of the Associaton of Swiss Archivists (VSA).
Commitment to one's own historical documents can have many facets:
Documents to be kept permanently are organised within your organisation and are stored in a specific place. You have the documents that are to be stored permanently recorded and conserved by specialists, perhaps within the context of an anniversary. With an entry in the arCHeco portal you create transparency.
When moving, restructuring, selling or due to a lack of space, you hand over your historically-important documents to a public archive, e.g. the SWA or a state or municipal archive. Ideally, the material is already sorted and roughly listed.
In all cases: we would be happy to advise you!